Don't discount this because of the name. Kale is awful tasting, trust me, I've tried to talk myself into eating it raw because it is CRAZY good for you. If it is not hidden in something is pure torture to eat(I think so anyways) That is what is so great about this recipe. It is raw kale that actually tastes good. My sister in law made it and I went back for seconds.....then thirds.......then finally just grabbed the big bowl when everyone else was finished and cleaned it out.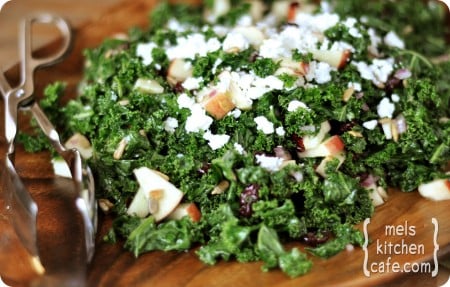 INGREDIENTS:
1 bunch kale
3/4 teaspoon coarse kosher salt or sea salt
1/4 cup finely diced red onion
1/2 cup dried cranberries/craisins
3/4 cup small-diced apple
1/3 cup toasted sunflower seeds(I don't think these were in the one I had, so it or leave it)
1/4 cup olive oil
2 tablespoons red wine vinegar
1/2 teaspoon sugar
1/3 cup crumbled Feta cheese
DIRECTIONS:
Wash the kale and pat it dry. Slice off the stiff stems below the leaves and continue slicing the stem away from the leaf until you have cut a thin v-shape into the kale leaf and removed the tough stem all the way up. Stack the kale leaves two or three at a time, roll them up, and slice the leaves into thin ribbons.
Place the kale ribbons in a large mixing bowl. Add the salt and massage it into the kale with your hands for two minutes. You'll notice the kale start to turn a darker green and the texture of the kale will begin to soften a bit.
Toss in the red onions, craisins, apples, and sunflower seeds. In a small bowl, whisk together the oil, vinegar and sugar. Pour over the salad and toss. Sprinkle feta cheese over the top and serve. The salad can be refrigerated for up to a day before serving (if doing this, I would suggest refrigerating the salted kale separately from the other ingredients and tossing the salad together an hour or two before serving).