This is what the Mr. is getting for Father's Day breakfast.



Ingredients

* 1/2 cup unsalted butter
* 1 cup packed brown sugar
* 2 tablespoons corn syrup
* 1 loaf French bread-sliced 1 to 1-1/2 inches thick
* 5 eggs
* 1 1/2 cups half-and-half cream
* 1 teaspoon vanilla extract
* 1 teaspoon brandy-based orange liqueur (such as Grand Marnier®)-If you are fresh out of liqueur you can put in some, o.j. concentrate, o.j. with some grated rind or orange extract.
* 1/4 teaspoon salt

Directions

1. Melt butter in a small saucepan over medium heat. Mix in brown sugar and corn syrup, stirring until sugar is dissolved. Pour into a 9x13 inch baking dish.
2. Remove crusts from bread(or not), and arrange in the baking dish in a single layer. In a small bowl, whisk together eggs, half and half, vanilla extract, orange brandy, and salt. Pour over the bread. Cover, and chill at least 8 hours, or overnight.


3. Preheat oven to 350 degrees F (175 degrees C). Remove the dish from the refrigerator, and bring to room temperature.
4. Bake uncovered 35 to 40 minutes in the preheated oven, until puffed and lightly browned.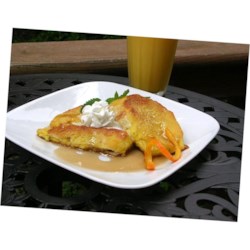 This is a perfect holiday food because it can be made the night before.